French Scientologists Celebrate UN Human Rights Year of Learning
December 12, 2009
Scientology volunteers across France are promoting human rights education, in support of the United Nations International Year of Human Rights Learning that began on December 10, 2008. The day is also marked as Human Rights Day, in honor of the United Nation's adoption of the Universal Declaration of Human Rights (UDHR) in 1948, a document drafted by a UN Committee chaired by Eleanor Roosevelt to protect human rights and fundamental freedoms.
Champions of human rights for decades, Churches of Scientology have spearheaded human rights reforms since the 1950s and in partnership with Youth for Human Rights International have distributed over 1.5 million human rights educational publications and obtained over 200,000 signatures in support of human rights education.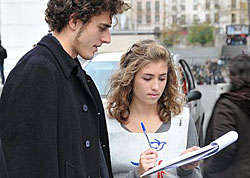 In France, volunteers of Scientology Churches are gearing up for Human Rights Day 2009 after a year of weekly human rights education events in Paris, Lyons, Marseilles, Vannes, Clermont-Ferrand, and Nice. Dedicating more than 5,000 man-hours to the cause over the past year, the young activists estimate they have promoted the UDHR to more than 48,000 people in France in 2009.
In addition to gaining support from individuals for human rights education through petition drives, the youth have distributed human rights booklets at music concerts, discussed actions to counter racial discrimination on a radio program and created their own song and dance performances demonstrating the UDHR article on Freedom of Expression. The volunteers also supported UN General-Secretary Ban Ki Moon's call for a global ceasefire on the International Day of Peace, by distributing booklets at the Esplanade des Droits de l'Homme (Esplanade of Human Rights) where a monument commemorates the UN General Assembly's adoption of the Universal Declaration.
"Human rights are something everyone needs to know," said one volunteer. "Then you make sure everybody's human rights are respected, including your own."