Church of Scientology of Inglewood and United Methodist Church in South Los Angeles Hold Hate Crimes Conference and Seminar
November 4, 2009
With the FBI reporting violent crime against churches on the rise, St. Mark United Methodist Church in South Los Angeles and the Church of Scientology of Inglewood co-sponsored the Second Annual Hate Crimes Conference on October 27 and a workshop on November 3 to educate leaders of faith-based and community-based groups on underlying causes of anti-religious hate crime.
Held at St. Mark United Methodist Church in South LA, Hate Crime Conference speakers included human rights attorney Barry Fisher; Rev. Chip Murray, former Senior Pastor of First African Methodist Episcopal Church and now serving as professor of Christian Ethics at University of Southern California; Ms. Tereser Banks, Victorville Federal Prison Warden; Captain Bob Green, commander of LAPD 77th precinct; Mr. Shakeel Syed, head of the Islamic Shura Council of Southern California; and Bob Adams of the Church of Scientology International.
From the issues covered in the conference, community- and faith-based groups attending requested further training in programs introduced by the Church of Scientology, resulting in the follow-up workshop.
Pam Roberts, Director of Public Affairs for the Church of Scientology of Inglewood, introduced Joni Ginsberg, Executive Director of The Way to Happiness Foundation International, who conducted a workshop on the newly published educator's guide to The Way to Happiness, a non-religious moral code based entirely on common sense. Written by L. Ron Hubbard, the booklet fills the moral vacuum and addresses urgent issues that contribute to increasing violence in today's society.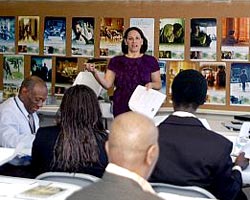 Ms. Ginsberg's presentation covered the precept "Set a good example." Those attending will now in turn implement the program in their groups, churches and communities. Rev. Willie Rollins of Community Missionary Baptist Church in Compton said the information covered in the Hate Crimes Conference and The Way to Happiness workshop will help "build and improve relationships that will bridge the gap between religions and races."
This year's Hate Crimes conference grew out of a program initiated in May 2008, held at the Church of Scientology Celebrity Centre International in Los Angeles, at which law enforcement and government officials, clergy and educators examined the growing problem of Internet hate crime and ways to improve Internet safety and security.
For more information on Scientology programs that counter violence and intolerance, visit the Scientology web site at www.scientology.org